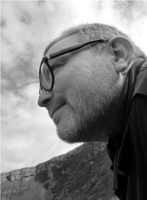 Andrew is both an audiovisual artist and a sound designer, with a breadth of experience across radio, film and television, as well as his more recent academic research work. He is currently employed as a Teaching Fellow in Design and Digital Media, working for the Edinburgh School of Architecture and Landscape Architecture. This is part of the Edinburgh College of Art in the University of Edinburgh

Andrew is in the final stages of his PhD in Creative Music Practice at the University of Edinburgh, supervised by Professor Raymond MacDonald in the Reid School of Music and Jared Taylor, Head of Animation at Edinburgh College of Art. His area of interest is audiovisual composition, particularly the combination of electroacoustic composition with abstract images in animation. His work starts with music made from the manipulation of recorded sounds, which he uses to create a sonic base for close integration with abstract animation.

Andrew has a background in radio, film and television. After his first degree (a joint honours in Management and Computer Science), he spent some time working in theatre and arts centres, before joining the BBC World Service in 1996 as an operations assistant. Soon after that, he moved to Television Drama, where after some time in central administration, he found himself at the coal face, looking after the accounts, filming on location on Drama serials and series. After a few years of this, he moved to BBC Children's, looking after the money side of their Interactive and Presentation departments.

All the way through his BBC career, he maintained an interest in music and sound, and left in 2007 to study at Edinburgh for an MSc in Sound Design. Having thoroughly enjoyed this, he decided to carry on to his PhD, working part-time and supplementing his studies with continued work in film, sound design, and teaching.

Andrew's work has been shown in Berlin in 2009, the International Computer Music Conference in Huddersfield in 2011, the inaugural exhibition at the Byte Gallery, Transylvania University, USA in 2011, and performed at the Toronto Electroacoustic Symposium in August 2012. More recently his work has been performed at the International Computer Music Conference in Perth, Australia, in 2014, and at an exhibition organised by the Black Cube Collective in Athens, Greece, in 2014.

He was also one of the first ever participants in the Talent Development initiative 'Sound Lab' run by the Edinburgh International Film Festival in partnership with the Glasgow based post production sound facility Savalas in 2012.


---